One of the most shocking revelations at WWDC was iPadOS. We didn't see that coming. Who would have thought that Apple would finally come up with iPad's independent operating system? With the announcement of iPadOS, a lot of multitasking features and improvements are added.
Shocked as we are! Were you also amongst the people who were hoping to get iOS 13 on their iPad? Well, this year, it will get even better with iPadOS.
iPadOS is developed on the same grounds as iOS, however, it has some distinctive capabilities, ideal for a larger display of the iPad. Now you must have questions in your mind: will iPad be the new brothers in arms to Mac? Will it be a counterpart to macOS?
The new iPadOS is just a start of what Apple aspires it to become. iPadOS aims to provide a productive user experience on iPad models. However, it still has a long way to go to replace your laptop completely.
The whole iPad lineup was designed with the vision to replace a laptop. Well, if we talk about hardware, iPad always had the hardware to replace laptops, but iOS seems to be restricting the possibilities to expand. Apple realized it and thus introduced iPadOS.
Difference Between iPadOS And iOS
iPadOS is an upgraded version of iOS and intends to focus on the iPad's specific requirements. iPadOS aims to provide what customers have been asking for, a better user experience, hence a potential replacement of laptops.
With the new features introduced, now iPad is not only a big screen to enjoy movies but to multitask and plug external devices to iPad. Users can now perform two tasks within an app. It also has Files app which enables moving files and folders between external drives with just a swipe. Also, editing is now easier with single gesture cursor controls. You can copy, undo or paste, all by gestures which make working on touchscreen simpler.
iPad undoubtedly comes with powerful features but what it lacks is a physical keyboard, which a laptop has.  A keyboard makes working easier when working for a longer time.
2019 iPad Air and 2018 iPad Pro come with Folio Keyboard cases which gives them the potential to be the replacement of the laptop. So, iPadOS is the right step in the correct direction. With focus and improvements made, it could be more robust and powerful than macOS devices.
Also Read:-
Selling Your Old iPhone? 7 Unavoidable Things to...
Wish to sell your iPhone and looking for options like how to take backup along with other steps to follow?...
Highlights Of Features Added To iPadOS
Let's take a quick look at the highlights which makes iPadOS exciting and productive than ever.
Safari Got A New Touch
The desktop version of sites is default in Safari, appropriate for iPad display.  It also comes with a download manager. New keyboard shortcuts including site-specific settings, text size controls and photo upload options are available.
Revamped Home Screen
Today view Widgets and the home screen could fit in the same screen with just a swipe. It will enable you to quickly access information such as weather, calendar, events and more. Also, you will get more room for app icons on each screen.
Editing Becomes Easier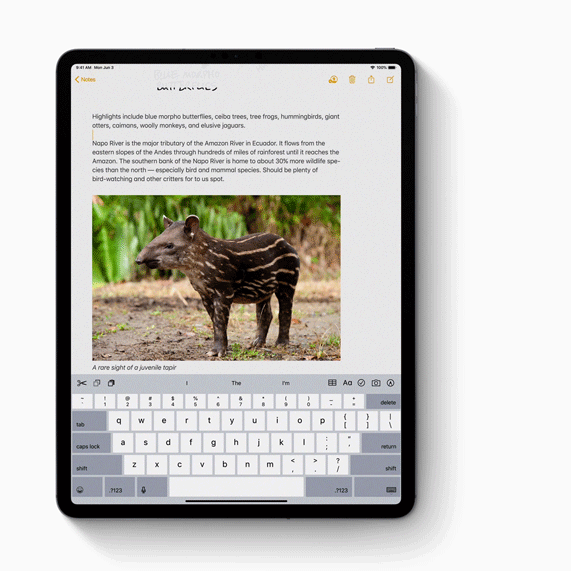 Image Source: Apple
Editing a document on an iPad is now easier than ever, it takes three fingers to pinch to copy & a three-finger spread to paste, increasing precision & speed. You can also use gestures to cut and undo.
Files App Is More Powerful Now
Files app now allows you to share folders in the iCloud drive. Anyone who has access to a shared folder can view it in iCloud Drive and can always have access to the latest version of the file. It allows you to plug in USB drives and other external drives. Files app will also support SMB file shares natively. A Column view which comes with high-resolution previews, assist users to locate directories. Now you can also perform Quick Actions like rotate, create a PDF.
Split View & Slide Over
Multiple windows of the same app which makes multitasking easy. Now with iPadOS, you can work on multiple files from the same app concurrently in Split View. You can also view and switch between different apps in Slide Over. For example, you can open two Notes files together to compare or check the information in them.
Apple Pencil Becomes More Useful
Apple pencil's latency jumps from 20ms to 9ms which makes more natural to use. Users can now mark and send webpages, emails, and other docs on iPad by swiping Apple Pencil from the side of the screen. With Pencil kit developer API, third-party developers can integrate new controls. This will help them to bring in new robust gestures and inter functionality between apps.
Also Read:-
Best AirPods Tips & Tricks You Must Know
AirPods is one of the best wireless bluetooth earphones available in the market. To get the most of your AirPods,...
Dark Mode & Other Things
Dark mode is not only coming to iOS, but it will also available on iPadOS. It will change the background of the user interface and Apple apps into black.
Along with all these changes, you can also expect performance improvement on your iPad with smaller app download size and fast app launch.
Custom Fonts can be installed for use across the system, which helps you creating engaging documents on iPad.
Sign in With Apple – A feature to log in to apps and websites with Apple ID to keep your identity safe.
Photos comes with new editing tools to adjust, edit and review your photos with ease. Also, significant events will be showcased in categories Days, month or year
Maps has been integrated with high-resolution 3D photography which makes it more alluring. Collections feature of Maps allows you to share your favorite places with people
Floating Keyboard makes single-handed typing easy, which gives more space to display apps.
This indeed indicates that iPadOS will steer the iPad in the right direction which it was supposed to be in. However, there is a lot more to do in iPadOS for it to make a contender against laptop or a possible replacement of laptops in the future.
iPad is finally free from being a device powered by iOS and now has an independent platform. But don't expect more just now. For now, it is a platform for iPad with a few enhanced features, focusing on changes required for larger display and hardware.
These changes would be very helpful for developers to design inter-app functionality and robust gestures for their apps.
What do you think about iPadOS? Do you think that Apple should have realized earlier that the iPad needs an OS of its own? Please share your thoughts in the comments section below.